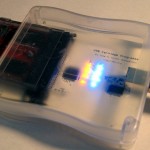 Long Awaited day for many!
USB backup solution for the Nintendo Gameboy. The device is compatible with Windows 98 through Windows Vista and any Linux distro. Backup original Gameboy game, EMS 32Mb Smart Cart  saves only) or flash any Bleepbloop Cartridge.

Save $1o when you buy a programmer and cart bundle. Comes with blue power LEDs and orange status LEDs with a white PCB in a clear, precision machined case. Fully tested and ships same day.