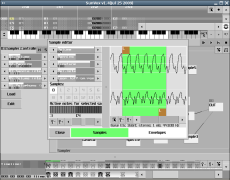 The little modular synthesizer/tracker sequencer for various handhelds has a nice update.
Warmplace provides the details:
No iPhone version yet. But it will be available in the next few days (after Apple approval).

New in this version:
* new module: Vibrato;
* added sinusoidal waveform to the "generator";
* added new effects 11 and 12 – fineslide up/down;
* added new effect 20 – set the probability (0…8000) of a note being triggered; this effect is for unpredictable rhythms;
* added new effect 21 – same as 20 but with random velocity;
* added new example track: endless_song (based on new effect 20);
* new functions in the "sampler": resample; volume fade; waveform drawing (paint mode);
* improved "transpose" function in the pattern editor;
* pattern follow mode (only for single pattern playing);
* sound engine optimization.
Download it at: :: warmplace.ru ::