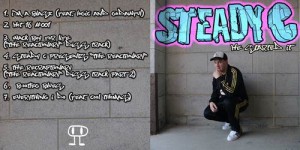 CDKr is no stranger to hip hop, with the Chip Hop and Urban Bits compilations being notable examples – but here is the debut effort from rap icon Steady C! Straight outta Meriden, Conneticut, Steady C has been creating rhymes and breaking hearts since he was but a small child. This collection of tracks contains some oldies, and some new crackers for yer earholes as well.
Recommended Usage: stick it on a cassette tape, pop it in your car and cruise your local neighbourhood.
via [CDK 056] Steady C – He Started It | CalmDownKidder Records.