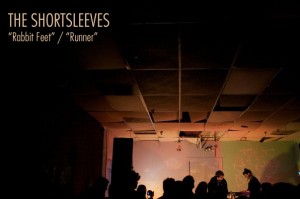 Jenn writes:
Hi friends – Paul and I dreamed up a tiny mailing list of friends who have supported and inspired us during our first couple months as a band. We wanted to give you first listen of our new single! I ventured to the land of Portland, OR to record these ditties with Paul. We hope you enjoy them, it's a joy to finally have material recorded!
DOWNLOAD: "Rabbit Feet" / "Runner"
Mirror The Shortsleeves_Rabbit Feet_Runner
Performed by The Shortsleeves
Written by Jenn de la Vega & Paul Owens
Recorded & mixed by Gabe Liberti
Photo by Peter Balderston
The Shortsleeves are LSDJ + Casio CT-460.