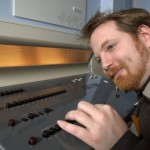 He gets profiled in New Scientist:
How did you get into this music?

…

When I realised that you could emulate old machines on a PC and learn what was going on inside them, I went back to the older sounds. I've designed instruments for pop stars. I reprogrammed Game Boys for UK artist Damon Albarn, for example, turning them into real musical instruments.
And a photo spread on cnet.
While I maintain that he tends to over-arcane the creation of and over-emphasize in importance in "the chiptune scene", the concert sounds really cool, and I look forward to what music is released from it.