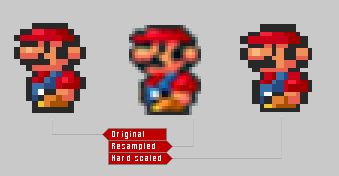 As told by this exhaustive and detailed dissection on NFGWorld.
An excerpt:

CDs and plasmas (and DLP projectors) are fixed resolution displays, and they don't scale images well.  Photographs and TV shows and movies look just great when you zoom in or stretch them a little.  They use a technique called resampling to create an image that's not quite entirely unlike the original, but bigger.

Pixels, however, are hard-edged pointy little things which look really terrible if you stretch them at all.  Resampling a pixel makes it blurry, and half the appeal of pixel art is its clarity…  Even if you're not a pixel-art fan, they often look out of focus.  Many people won't notice, or won't care, and they might as well stop reading here.