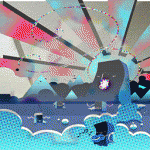 Another release from the ever so loved II:
Rollie Poley Years is dedicated to days in preschool where finding and trapping small bugs was my primary occupation. Because of this, it is my most playful work, moving quickly over melodic ideas like a young child searching for worms in the dirt. The emphasis on lightly crunched distortion and heavily layered mono synths creates a game-oriented sound palette. The 9-song EP wraps into a 14-minute circle, ending with a very different version of the first track that leaves the listener with the taste of sparkling rainbows and happy clouds.

01 srs ending
02 mose
03 strategy5
04 ummies
05 nide righter
06 bugeyes
07 ans
08 dinosaur document
09 sparkling rainbow shit
Even though some of the tracks on  this album are arguably non-chip, you'll find a lot of chip like elements and a general lo-fi atmosphere which is very likeable. Well worth a check out!