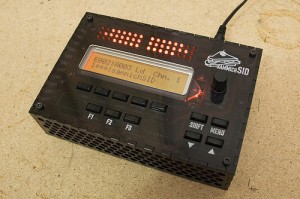 A new simple Midibox based project is going on sale soon.
Details:
cheap

small

DIY newbie friendly

minimal control surface

single "walwart"/AC adapter supply, no C64 PSU brick!

stereo SID, optimized for 8580/6582A, 6581 optionally supported

"sandwich-style" stacked PCB design, no wires!

laser-cut 3mm acrylic case by

Ponoko

, customization possible

industry standard 2×20 character LCD with low-power LED backlight, customization possible

common control surface parts used, customization possible

To be available as a complete kit, including PCBs, components, case, hardware and (optionally) two 6582A SIDs!
MIDIbox SID Synthesizer V2 features
One Core module and one stereo SID module, fully integrated on one PCB with power supply.

Five "BankStick" slots, so you can store 4 banks of 128 patches, plus 128 "Ensembles" (engine and patch configurations)

Jumpers to configure the power supply, allowing a regulated 12V input to power 6581, or unregulated AC/DC input to power 8580/6582A.

Minimal control surface with three user-customizable buttons and LED matrix for maximum bling.

2×20 character LCD with support for low-power (25mA) or high-power (250mA) LED backlight.

Potential for future upgrade to MIDIbox SID Synthesizer V3 using add-on board