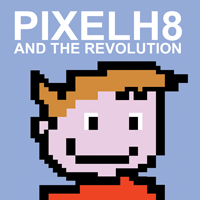 You can be excused with forgetting that Pixelh8 is actually a musician, with his healthy schedules of lectures, and software development, but his new record, is available for preview on his website.
Details:
After two years of performing, creating software and tons of research. Pixelh8 returns with his third studio album. And The Revolution pushes the boundaries of chip tune once again featuring robot vocals, machines blowing up and an orchestra, it's a revolution.

Available as 192Kbps MP3 or FLAC Lossless

via Pixelh8 Music Shop. Full track listing after the jump.
01 The Girl From The Future 3.39
02 Contains Mild Euphoria 3.19
03 Panic Buttons (Segue 64) 0.24
04 Out On The Floor 3.47
05 IED 3.33
06 Somnolence 2.54
07 Mainly Stuff That Caught On Fire 1.01
08 Computability Love 3.16
09 Current Affairs 3.39
10 You Were Born To Save The World (Digital Lullaby No.1) 4.34
11 Loading Dreams 2.20