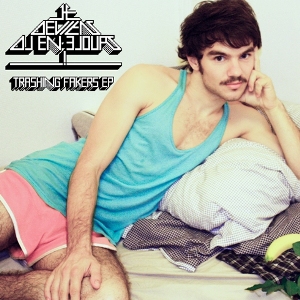 Trashing Fakers is his debut single with BLEEPSTREET and contains the original Gameboy version re-edited and mastered for digital release, plus 4x Remixes featuring fresh artists such as Single4Saturday, FLLD, Dr. Von Pnok and JDDJ3J himself on the opening mix. The original Gameboy version is an upbeat electro-house track that has been one the biggest party makers in the gigs he has played around 3 continents.

The release starts with his own remix rolling in with an epic intro mashed up with the French hard electro sound and 80s characteristic slap bass Funk. Also among the remixes included: more electro-house by FLLD, a furious dark electro-techno Remix by Dr. Von Pnok and the dirtiest UK digital electro we have ever heard from Single 4 Saturday.
Bleepstreet was kind enough enough to send us a preview of the EP, and while funky chipmusic electro is not my forte (and with Akria recusing himself from this one), it is up to me to let you know whether or not this is awesome.
The answer, obviously, is yes.
JDDJ3J to me is primarily known to me for an amazing Blip Festival 2009 performance, and of course the time I caught him video taping me when I was in a classic zone out backstage … let's skip past that though.  His material is the type of dancey chip music that absolutely PUNISHES a PA, and his performance that night was one of the heaviest live chip music performances I have had the pleasure to see. The single is a great translation of that live energy to a recorded medium, and fans of his music would be well advised to grab it simply for the Original Gameboy Version alone.
JDDJ3J has also served up a number of remixes that expand and explore the many facets of this initial version, but if you where a fan of the earlier Bleepstreet releases from acts like Goto80, you might be disappointed in the lack of sonic variety as they seem to very much stick to the electro formula of the initial single. This is mitigated by the fact that they are all very solid tracks, especially Dr. Von Pnok's track and JDDJ3J's own remix. The funky bass and robot vox breakdown on the latter track makes this a solid buy for me, so if you are itching to hear more, here is the full track listing:
TRACKLISTING
1 – Trashing Fakers (JDDJ3J Remix)
2 – Trashing Fakers (Original Gameboy Version)
3 – Trashing Fakers (Dr. Von Pnok Remix)
4 – Trashing Fakers (Single 4 Saturday Remix)
5 – Trashing Fakers (Faites leur la danse Remix
You can also LISTEN TO IT ON SOUNDCLOUD
or: GET IT ON ITUNES