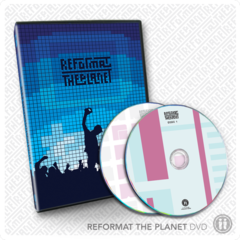 Fangamer is proud to present 

2 Player Productions'

latest documentary, 

Reformat the Planet

, along with a slew of excellent merchandise:
2pp prroductions has worked very hard for a number of years on documenting the chip scene, and this is their crowning moment, so please do your part and order a copy.
They make great stockin stuffers.
More Details after the jump
Disc 1: Reformat The Planet – Full-Length Director's Cut, plus:

Commentary track with the filmmakers
Additional Interviews
Deleted Scenes
Trailers

Disc 2: RTP 1.5 – All-New Documentary, plus:

Commentary track
Music Videos
Conversations with the Musicians
Chip Music Tutorials featuring Glomag and Bit Shifter

RTP Collector's Booklet – 16 pages of full-color photos and essays from musicians and critics
Order online at Fangamer – Reformat the Planet.