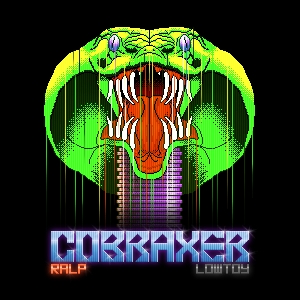 All tracks of this release are made only with one Game Boy DMG and the Nanoloop 1.5 program. Cobraxer album is a session in 28 tracks of 45 minutes, performed and recorded in live mode, with some improvised parts. It's been recorded directly into computer with a Pro Sound modification in the Game Boy, without any extra effects, editions or postproduction stages. 100 % DMG and Nanoloop. Cobraxer has been created during 2010. The cover is made with Photoshop by Ralp.
Tracklist:
1. Citronelium
2. Ucsuagra
3. Toxot
4. Xetax
5. Copron
6. Phrorer
7. Torrar
8. Quplurcs
9. Smeta
10. Femaob
11. Obloam
12. Cleborquian
13. Viaductex
14. Drada
15. Qudrox
16. Emional
17. Metraflork
18. Flaxflo
19. Phnamiax
20. Mutator
21. Cror
22. Pinord
23. Zepanot
24. Anagramax
25. Petruder
26. Shubra
27. Clichetings
28. Axia
Cover: Ralp
Barcelona
2010
Lowtoy was created in 2010 with the idea of consolidating the 8 Bit, Circuit Bending and DIY scene in our country in the first place, but also promoting  Latin-American artists and labels but never closing doors to the rest of the world. The label was born thanks to the collaboration of people from different collectives like MicroBCN or Distortled Box and several artists from the low-fi audio-visual scene like Ralp, Snail, Meneo, subATAK or Lautstärke among others.

We are open to all genres, style and experimental collaborations related to 8 Bit technologies and all vintage flavors around music, design and video. In our site we promote not only studio releases, but live sets and video creations, as well as a Lab section with diverse material. All in English and Spanish!

At the moment the first three releases are available, and a few more from Meneo, Snail and Degon are in the way.