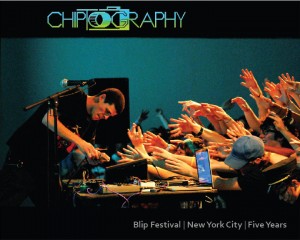 A comprehensive photographic record of chip musicians who've played New York City's Blip Festival, from the first wintry event at The Tank in 2006 through the 2007 show at Eyebeam, the 2008 and 2009 shows at The Bell House, and the spring 2011 return to Eyebeam. Blip Festival | New York City | Five Years represents thousands of hours of work by Chiptography in documenting the New York City chip music scene's most important yearly event.

All photographs by Marjorie Becker (Chiptography). Edited by Jessen F. Jurado. Illustrations by Ville Kottinen (KeFF).

Purchase of soft or hardcover edition includes:

Name printed on the "Supporters of this Book" page (for pre-orders from April 6-May 7, 2012)
Chiptography sticker, pin, portrait card *
I/O Chip Music compilation CD

Pricing (does not include shipping):

US $60.00 – Softcover
US $75.00 – Hardcover
US $125.00 – Limited Edition**

*Sticker, pin and portrait card supplies are limited and will be included for the first 50 orders. Portrait cards are 2? x 3? and will feature one of 50 unique artist photos

**Only five Limited Edition books will be available. Includes: Hardcover edition with cover illustration by KeFF, bonus content including portraits and behind the scenes photographs, I/O Chip Music Compilation CD, Chiptography pin, sticker, portrait card, and limited edition poster.