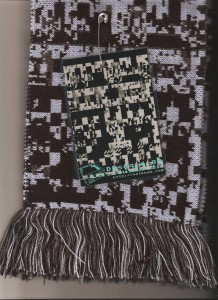 Released at the beginning of 2011, DH_4-09 is the 2nd limited edition scarf designed by Jeff Donaldson (AKA Notendo.)
The pattern was created with the DH system and rendered as a scarf at a 1:1 pixel to knot ratio.
Perfect for the upcoming winter months, DH_4-09 is currently offered in 4 different colour combinations:
Black, Light Blue, Dark Gray (pictured)
Black, Dark Gray, Light Gray
Black, White, Light Gray
Dark Gray, White, Light Gray
Scarves are $75 each plus shipping & handling. Paypal is OK.
Dimensions: 145x17cm / 57×6.5in
The design / pattern is knitted in, not printed or embroidered.
Material: 100% soft acrylic. The material is soft and good to wear. Handwash or machine wash at 30 degrees celsius / 86 degrees fahrenheit.
Contact! jeff @ notendo.com with any questions!
DH_4-09 is a continuation of Notendo desgined glitch apparel.
For t-shirt designs: Glitchaus