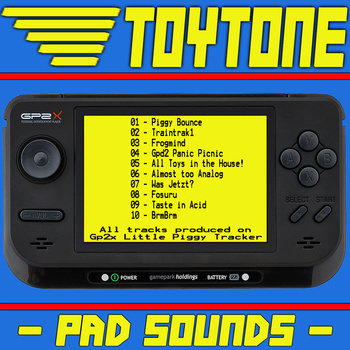 Fresh out of the oven! A new production by Patric Catani, completely made in LGPT running on a GP2X.
The first officially released tracks of the Toytone project come as bassy as they wanna be. Varying between Club, Booty Bounce and an exaggerated approach of speed acid dub, you will notice that this collection was not done overnight.
Enjoy this full package of passionated Piggy tracking –
Download the full album and get two Bonus songs!
Tracklist:
1. Piggy Bounce 04:14
2. Traintrak1 03:30
3. Frogmind 03:06
4. Gpd2 Panic Picnic 03:12
5. All Toys in the House! 06:11
6. Almost too Analog 04:23
7. Was Jetzt? 02:49
8. Fosuru 09:11 download
9. Taste in Acid 08:18
10. BrmBrm 06:40
Download and listen to it from his Bandcamp page