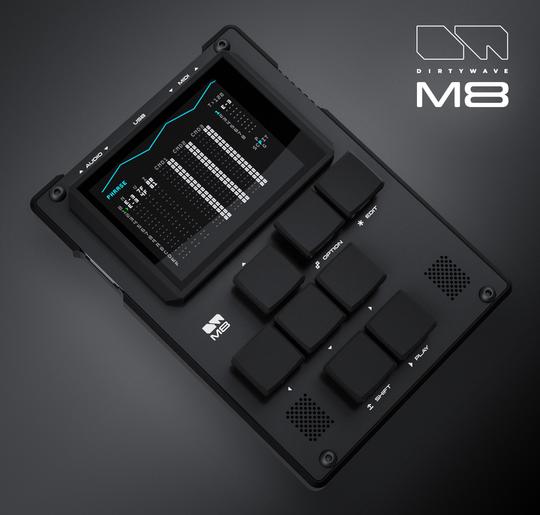 The Dirtywave M8 has been gestating in the mind of chipmusican and technologist Tim Lamb, aka Trash80, for more than a decade now. Branching out of past projects like his Arduinoboy midi add-on for LSDJ, the YM2149 synth project, and his max4live synthesizers Betawave and Blittersynth
Taking a queue from handheld trackers popularized in projects like LittleSoundDJ and LittleGPtracker, the device aims to solve so of the biggest frustration with those units, namely sound quality, synthesis methods, and interfacing the hardware with modern music-making equipment, and starting today; you can preorder the unit in the first production batch (after a successful pilot launch last fall). Is this a pricey extravagance for chipmusic fans, or is it a serious production powerhouse? TCTD ordered a unit last fall and watched the development process until today's launch, so let us dive into its features and use.
Specs
These units are shipping with the following features:
Sequencer Specifications
8 Monophonic Tracks/Voices
255 Patterns/Phrases & chains
256 Instrument Tables for advanced modulation
128 Instruments per song
Song Arranger with Live mode
Instantaneous song recall
Full MIDI input & Output support
Instruments & Effects
Wavsynth – Classic console & computer chip emulation.
Macrosynth – Based on Mutable Instruments Braids
FM – 4 OP 12 algorithm with feedback per operator.
Sampler – 8/16/24 bit mono and full stereo wav format.
MIDI Instruments with 10 user definable CCs.
Global reverb, chorus, delay and a master bus limiter.
Sample recording and song rendering/bouncing.
No sample memory or length limitation.
Hardware Specifications
3.5mm TRS MIDI (Type A or Type B) input and output.
Stereo audio input and Headphone/main output
USB MIDI and Audio compliant
SDHC Micro SD slot for storage
1200mAh USB rechargeable battery – up to 6 hours use.
High quality 2.8″ IPS display with capacitive touch
Dimensions: 96mm x 133mm x 18~20mm
Despite the form factor, this is NOT a Gameboy; check out this #m8tracker tag for a wide variety of musical styles and synthesis methods. This stacks up very favorably to similarly priced options like the Polyend Tracker, The Novation grooveboxes, or even something left-field like running a desktop tracker on a Surface Pro, or using an iPad.
Shifting some bits
With the generous variety of input options, you can incorporate lots of different ways in an existing setup. Having USB connectivity is a huge boon, especially for monitoring and streaming the output to modern devices like your desktop. Some tools utilize USB to stream the device's audio and visuals to a browser so that you can use your fancy computer display in the studio. If savvy, you can use the developer-provided Touchdesigner template to do whatever strikes your fancy.
You can even run the device on barebones teensy hardware, using the provided headless firmware, if you are inclined to try before you buy a bit more affordably.
Example use cases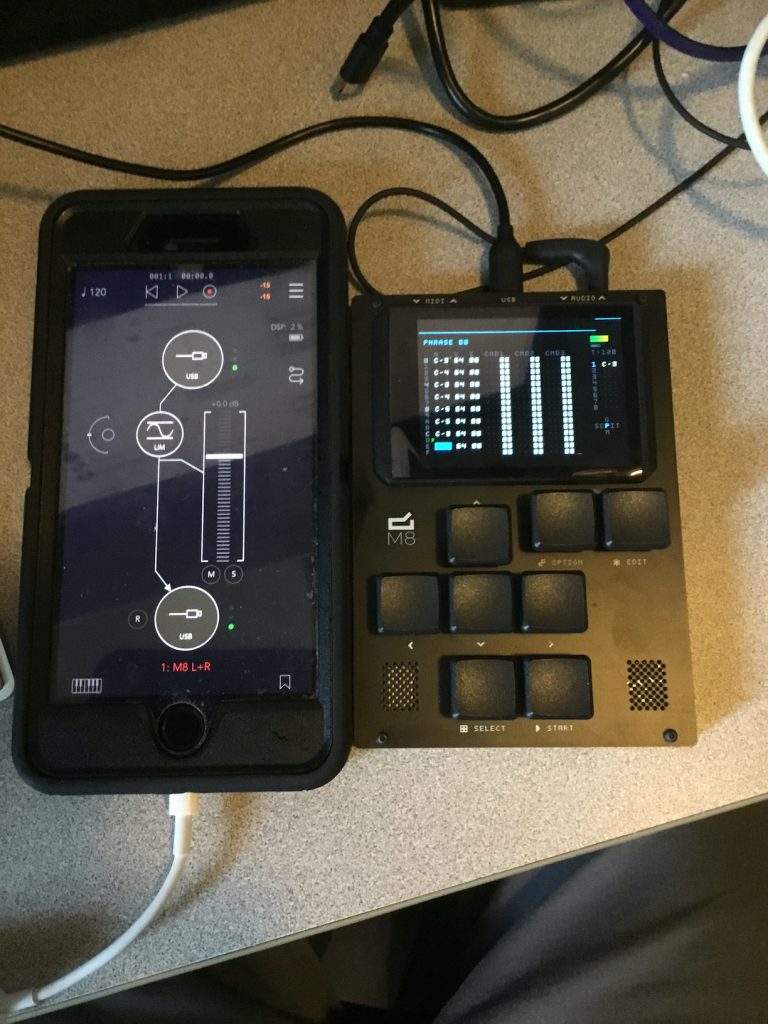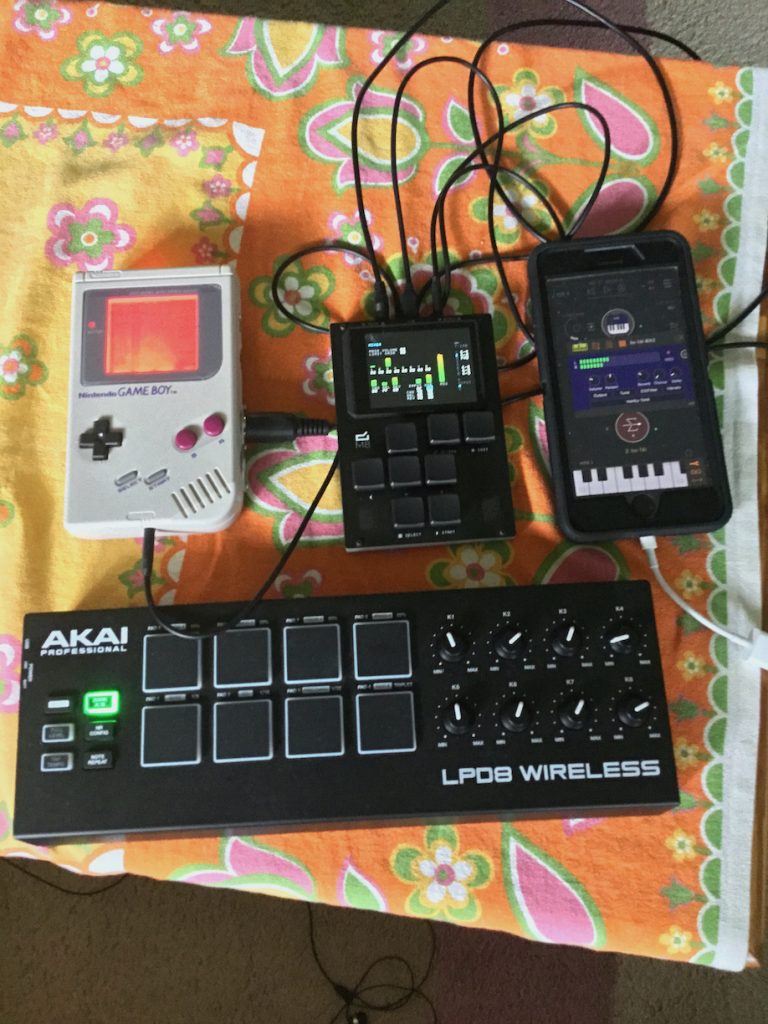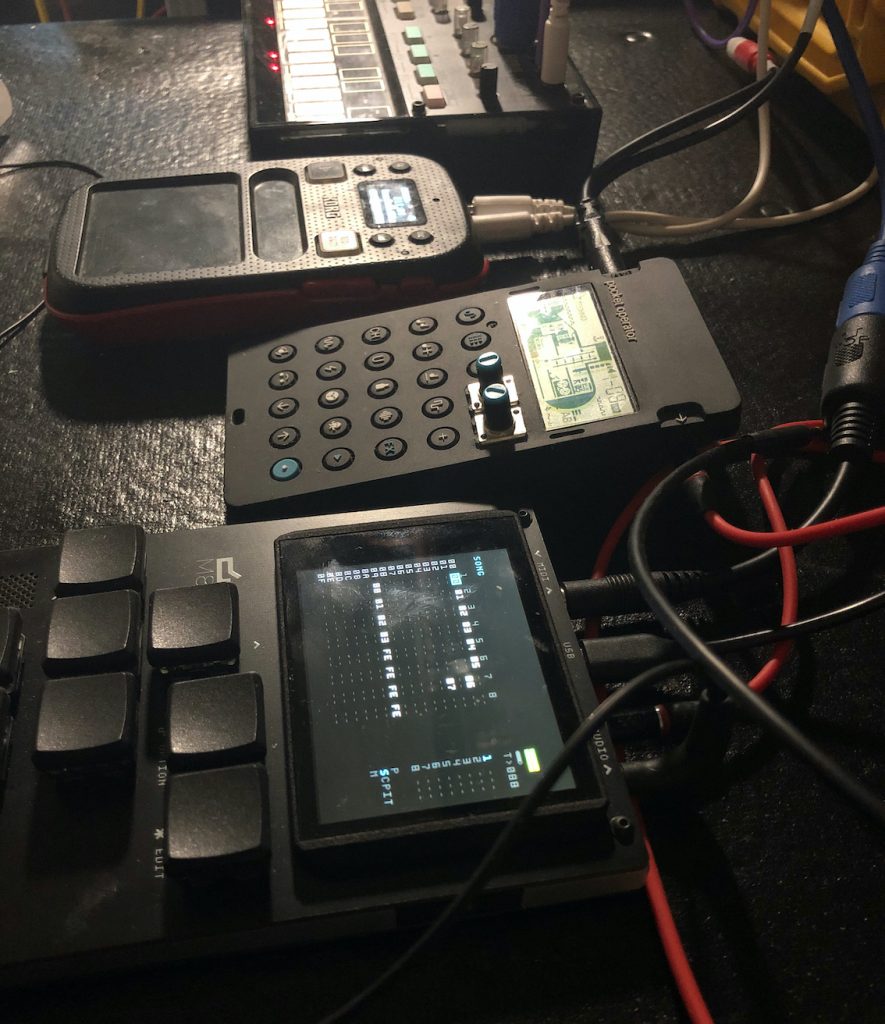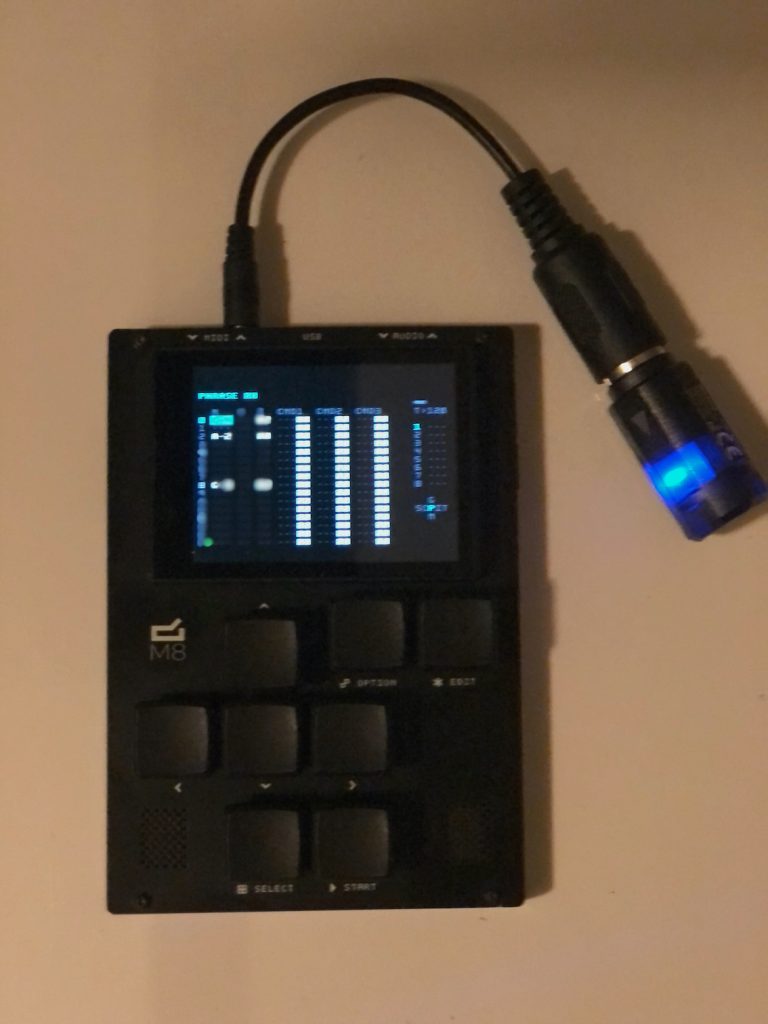 Big sound in a tiny machine
Using the device feels free, having been using LSDJ since 2003. The nice chonky keys, and size of the unit feel great and can be used one or two-handed, which comes in handy when trying to use the unit with other devices. You can place the unit on a table top and crab hand queue chains in live mode no problem.
One difference from previous attempts in this genre is most of the commands are relative. This means that you tell the tracker what value to take the sound to, versus just setting the destination. This was hard to get used to for me, but it is such a brilliant way to program in effect slides and create lots of movement in your sequences. True heads will be psyched to hear there are a lot of tables in this.
Performance-wise, the device handled use and abuse very well. The included synthesis types sound great, particularly the Macrosynth based on Mutable Instruments Braids and the more recently added FM synth. The included effects are also lush and very useful. You can even render stems from your desktop and stream them from disk, leading to funny meta scenarios like rendering entire multitrack chiptune songs and playing them with modern drum machines samples and Metasynth sounds at sample-accurate timing. Four Gameboy tracks and four tracks of Dubstep style wave basses are coming right up.
On OSX and Windows, some clicks can be heard on the USB, but luckily the m8 has also added stereo mix and multitrack song bounce on the unit. In my usage, I've been using USB for monitoring during DAW sequencing and then rendering the track for mixdown. You can also sample directly to the unit, which makes up for the hassle of having to physically remove the SD card to transfer stuff from the m8 to a computer.
Midi control is super flexible, and assigning a mixer controller to the device is great fun. You can even assign the touchscreen to any parameter for Kaoss style XY pad fun in a pinch.
Hardware scenes versus music scenes
One of the early criticism of the early M8 Beta launch was that didn't do a great job of getting these preproduction units into the hands of more diverse creators. To me, this felt less by design and more an error of omission, with news and updates occurring mostly off the internet behind a Patreon and in a well-moderated Discord server. To the groups that tend to feel comfortable in these spaces, it is supported and well attended. Still, to newcomers or outsiders to the product, it can feel a little insular and gatekept behind prior knowledge of music scene technology.
Efforts are being made to address this, with efforts like a weekly Twitch stream, and Community provided docs while deep, are still uneven, missing features like the relatively newer stuff like rendering and the FM synth.
The high-to-chiptune-scene price of the units may be off-putting for new users, but the headless version is a nice entry-level price for people wanting to get into the scene. Having availability at all should do more to create a richer tapestry of diverse voices in the burgeoning m8 scene. As it stands right now, there isn't really a scene to speak of other than ownership and technique comparison.
As the user base grows, time will tell if that will result in a genre-defining sound that comes out of these units because it definitely has its own vibe. Here's hoping it's something worthy of the hardware.
A pint-sized powerhouse
To people striving for a hybrid setup of using tools like LSDJ with mainstream electronic music gear, the M8 almost seems too good to be true. The music that comes out of these units really stretches the limit of what you'd call chipmusic, but having THAT INTERFACE in the service of whatever music the author wants to make can only lead to great stuff.
If you can swing it, getting one should be a top priority.