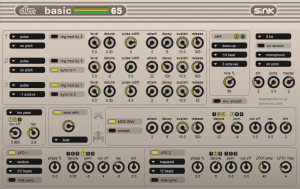 basic 65 is a monophonic synth, inspired by the classic 80s home computer, the Commodore 64 and its legendary SID chip. Building on the waveforms and signal path of this famous chip, basic 65 adds further features and options to take things a step further.
features
• Monophonic synth in VST format for Windows based hosts
• 3 oscillators with pulse, saw, triangle and noise waveforms
• Pulse width can be modulated by envelope or both LFOs [NEW – pwm modulated by envelope]
• Each oscillator can be sync'd to another and/or ring modulated by another
• Each oscillator has its own ADSR envelope and can be routed to filter individually
• Resonant filter with low pass, high pass, band pass and notch modes [NEW – notch mode added]
• 2 tempo-sync Arpeggiators in series for complex arp sounds [NEW – 2nd arp, added arp patterns]
• Arp tempo, range and note length can be adjusted [NEW – more tempo-sync options, note length knob]
• Modulation envelope can control pulse width and pitch of individual oscillators as well as filter and dirt [NEW – modulates pwm, cut-off, res, dirt]
• 2 tempo-sync LFOs with wide range of waveforms, including random [NEW – more waveforms, more tempo-sync options, added phase]
• Both LFOs can control pulse width and pitch of individual oscillators [NEW – individual oscillator pitch and pwm]
• One LFO also controls filter and dirt, the other can modulate the depth and speed of the first LFO [NEW – modulates res, dirt and LFO1]
• Envelopes are non-linear and can be retriggered from zero or smoothed on each new note [NEW – separate smooth for amp and mod envelopes]
• Pitch drift models instability with variable depth and frequency [NEW – depth and frequency added]
• Options for 4, 6, 8, 12 or 16 bit audio with randomising feature [NEW – added randomising, added 4 bit and 12 bit]
• Developed with SE 1.1, so no problems with multiple instances [NEW]
• 128 presets by sink covering arps, leads, bass, drums and lofi sounds [NEW – all new presets]
• basic 64 is also included in the download
via de la Mancha basic65.