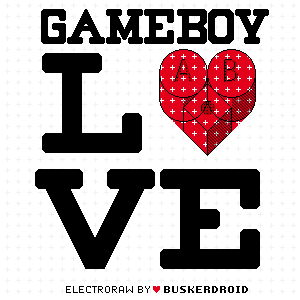 Gameboy Love EP is the new album by the hyperactive Italian chiptuner Buskerdroid. It comprises 5 tracks made exclusively using the LSDJ software.

This 16th original Da! Heard It Records production is back to the basics : 8bit music!

Buskerdroid offers his listeners some serious energy through his doped-up sounds. Taking no prisoners, he drags his Gameboy into the most unexpected corners by creating hybrid tracks combining 8bit and hardtek.

Gameboy Love EP will leave you breathless, it's short, clear and concise, leaving the listener in an over-excited, confused and crazed state of mind. The title track 3D(istortion), to mention just one,submerge the listener into an absurd universe thanks to its relentless rythm and throbbing melody.

Gameboy Love EP is meant for connoisseurs of the chiptune movement, but also for fanatics of much more violent electro styles.