Great news for all SID music enthusiasts running OSX!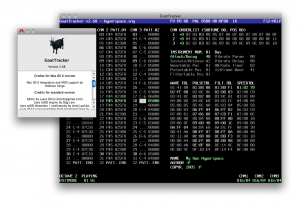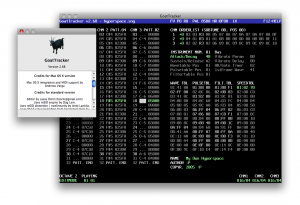 GoatTracker is a cross-platform tracker written by Lasse Öörni, producing SID chiptune music for the Commodore 64, and released with source code under the GPL.

[…]

This Mac OS X port of GoatTracker integrates the cross-platform code with a standard Mac OS X GUI, and adds additional features, such as MIDI keyboard support and comprehensive built-in help.

Versions of GoatTracker for other operating systems such as Windows and Linux can be found on the Covert Bitops page.
The previous OSX port of Goat Tracker was version 1.4, which in my experience was running really slow and unstable. After a few minutes trying out the new update on my MacBook, my impression is quite the opposite.
This time around, the Mac OS X integration is much more complete, offering standard keyboard shortcuts, built-in help windows, and open/save dialogs for songs and instruments. There's more room for future improvements though. If you're actively using GoatTracker, please let me know of any ideas and suggestions you might have.
The port is made by Andreas Varga.