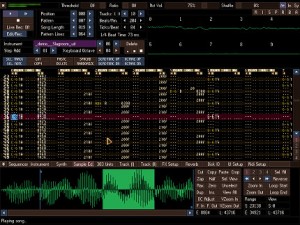 "ProTrekkr (formerly known as NoiseTrekker by Juan Antonio Arguelles Rius aka Arguru) is a tracker program combining a software synthesizer together with a traditional samples tracker which can be used to create electronic music (like psytrance, trance goa, hard acid, IDM, chip, techno, etc.) for small sized intros, demos or games."
Changlog:
– Improved midi in/out support (notably by adding velocity).
– Default instruments volumes are always turned on now
as they're used for midi output.
– Added 3 new themes.
– Tracker sometimes crashed at exit when using midi.
– Mouse wheel activated for horizontal patterns slider.
– Fixed a small issue with vu meters values.
– Number of effects columns is now selectable (from 1 to 4).
– Added synth oscillators combiner.
– Each track now have separate volume.
– Added lo/med/hi bands equalizers for each track.
– Delay send had precedence over command 10
when updating track tab during play.
– Fixed up reverb code (should sound cleaner too)
and added stereo separation parameter.
– Flanger speeded up.
– Right mouse button in lists arrows is now active
(jump to previous/next letter group for files lists).
– Added 13 new (converted) modules for testing purposes
also improved (?) older modules to take advantage of new features.
– A file name can now be passed as argument to the tracker, it will
be loaded at startup (can load any file recognized by the tracker).
(this can be used to associate .ptk files to the tracker).
– Default repeat loop row is now 0 (was disabled before).
– Improved .mod/.ft import.
– Glide effect (5) should now work with synth instruments.
– Tracks data weren't displayed properly sometimes.
– Fixed a bug in tracks filters.
– Implemented insert or delete track functions.
– Tracks can now be rendered to .wav in their own separate file.
– Tracks panning changing are now smoothed.
– Live recording strategy improved.
– Implemented a midi automation system to control elements of the tracker
from a midi device (like a master keyboard).
– Added effect 25: Set shuffle value.
– Metronome implemented (used during recording).
– Fullscreen mode is now used with current screen resolution.
– Handled latency at recording startup (so visuals should be synched to audio).