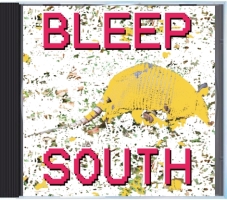 from 8bc.
Bleep South is a compilation featuring artists from Florida.

1. Oddknock – No Lives Left (No Human Interaction Mix)
2. Lissajou – A Dead Wizard's Pager Contains Strange Digits
3. After the Bomb, Baby – Blue Mesh (See You At The Party Rikter Mix)
4. I Kill Pxls – Bad Connection
5. Diamonds Guns Gold – Question Mark
6. goatslacker – Pulsesenz0r
7. 3P1L3T1C F1T – Level 1-2
8. 3P1L3T1C F1T – Level 2-1
9. 3P1L3T1C F1T – Level 2-2
10. 3P1L3T1C F1T – Level 2-3
11. Keepbullfighting – Ninja Secrets of Invisibility
12. c-c – Ghost Ride the Blip
13. DJ Thanatos – Adios, Toreador (Live @ Keepbullfighting Farewell Show)
Track Listing
Oddknock – Hard hitting, face melting track that shows no mercy. Chipmusic with hard kicks and sharp snares. Amazing work.
Lissajou – Master of dance and known to romance the stars. His track is pure dance excellence.
After the Bomb, Baby – We don't really know what they're after other than your ears. Very catchy band. Also featuring: Drum Machines.
I Kill Pxls – VGM Inspired electro chip pop. Comparable to Ben et Bene.
Diamonds Guns Gold – Very washy, spaced out, shoegaze inspired pop. Featuring a Game Boy Camera and a Drum Machine.
goatslacker – Coming with a different sound than of the Assault EP. This track, greatly inspired by Southern Rock and VGM, features a more melodic sound and a Progressive Rock feel.
3P1L3T1C F1T – Lives up to his name. All tracks come with a warning label.
Keepbullfighting – El matador is back and this time alone. This VGM-Inspired act has some great sounds. Must listen to.
c-c – He's the king of Colombian Gabber. His track features hard gabber noise mixed with chipmusic.
DJ Thanatos – Puts a close to this CD with another Emergency Dance rave party. This time Live from the Farewell to KBF show.
Information
Bleep South will be available at Blip Festival at the [8bc and/or Blip Fest] merch table for $10 each. Please see me or lissajou on how to obtain a copy. (ed. Blip.08 is over, so watch the above 8bc thread for coming info on how to obtain this release!)