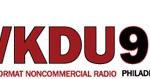 A little bit of a plug!
I recorded an interview with the fine lads from the WKDU 91.7 show: Getting Wet In A Bathtub With Un-Cooked Sausages While Not Picking Up The Phone Cuz Yer An Asshole.
It will Air Friday Morning at 12am locally in Philly and over the internets
This is leading up to this weekends 8Static! show, so you should check that out as well.