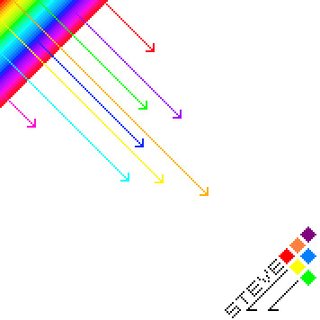 Following his release for Kittenrock, "this new EP has come out as a (comparatively) luxurious jewel-case 3" mini-CD, and IS NOW AVAILABLE AT RETINASCAN!!!!.
Tracklisting:
1. SPC Beatbox
2. Club For Broken Hearted Robots
3. Manor De Sex
4. Paradise
5. Firing Speed Rainbows
"Needless to say this will rock your next party if you decide to own this." – Store @ Retinascan
Steve's second EP and the debut release for S18 Records, 'Firing Speed Rainbows' continues from where his debut release for Kittenrock left off – taking the sound of cheap technology from the mid-90s and creating melodic electro with it. 'SPC Beatbox' turns drum sounds from the SNES into a body-popping beat, over which FM synths duel for surpremacy, while 'Manor De Sex' is a sleazy funk machine. The journey ends with the title track, fuelled by majestic synth strings and packed with soaring solos. Essentially, 'Firing Speed Rainbows' is the result of a tantalizing new approach to lo-fi music.