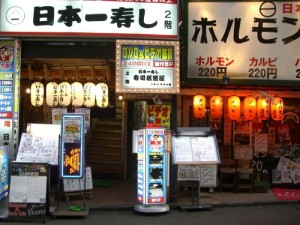 For about 5 years, I lived less than a 10 minute train ride away from Kichijoji and remained completely oblivious to the fact the I lived so close to what is probably Japan's premier
Chip Music event. Quarta330, Coova and Saitone held the first Lo-Bit Playground 5 years ago. Since then pretty much every major Japanese chip act has played there. A fair few guests from the US (Bit Shifter, Bubblyfish and Nullsleep) and Europe (Covox and Role Model) have also appeared over the years.
I don't recall exactly where but I heard rumors that the venue 4th Floor was kind of hard to find to I did a little research. I Armed myself with a Googlemap, first hand directions from two people and a phone number. Pretty confident that the venue was "1 minute from the station" I arrived 40 minutes before the first act and couldn't find the place at all. I know the local area pretty well but it is an incredibly dense commercial area, there are probably 2000 shops within a minutes walk of the station. Ten minutes before the doors opened I found the venue.Little did the world know that down that spooky little corridor just visible to the right or the stairs, on the unmarked 4th floor of the building, another Lo-Bit Playground was about to happen.
The venue is pretty cool, very cool in fact. It's not large but it managed to accommodate about 100 people and gear for 7 acts without feeling claustrophobic. A quick apology before we go any further, Lo-bit playground is very very hard to photograph. Its very dark with almost no stage lighting and a the venue has a very low ceiling so the pictures aren't quite as dynamic as I would have liked. On with the show!

18:30 – The Hunters
The Hunters opened with a deceptively happy visual of a UFO simply proclaiming "We are the Hunters" and a twinkly little upbeat intro song. Coova and I would guess a VJ were the only people on the stage but their site mentions a third member. The Hunters' set was much darker than the intro led the audience to believe. They only played 5 songs but the crowd was bobbing along appreciatively from the outset. The visuals were a bright, surreal and good. Coova worked dark heavy beats on Nanoloop accompanied by Images of cows, policemen, chairman Mao, hippos, fractals and growing and shrinking buildings. Interestingly she seemed to be using either a GB Pocket or Color rather than a more bass heavy DMG or a backlit unit. Their final track really reminded me of Digerydoo by Aphex Twin. A great opening, keep your eyes on The Hunters site for any news of a release.
19:00 – Saitone
I don't know if there was a strict curfew or LBPG is just a well oiled machine but Saitone started his set before The Hunters were even off the stage. Overlapping Spiral came out at the end of last year and featured heavily in the set. He used a selection of Gameboy hardware running through a piece of kit I wasn't familiar with called an Roland EF-303. It's a tabletop multi-effects unit built in the same chassis as the Roland MC-303 or SH-32 to give you an idea of the shape. Saitone OWNED that machine, he was bouncing off it for the whole set and having an absolute blast. His performance was upbeat, glitchy and fun, and I strongly suggest you check out the album.
19:30 – Nacky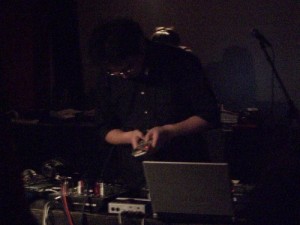 I have tremendous respect for Nacky, he isn't a Chip artist and I think due to some technical problems the next act were having, he was bumped up the roster at short notice. At the very start of his set, he told everyone he was more kind of downtempo laptop techno and we could all relax for a bit if we wanted to. He played a couple of fairly slow melodic chill out tunes and played along on a little keyboard controller. Toward the end of his set, he pulled out a Gameboy color, explained again that he isn't a Chip artist and proceeded to wrestle a few minutes of perfectly danceable chip music from the little machine. He complained in a kind of good natured way that the software (fairly sure it was LSDJ) was hard to use and even harder to see but major props to him for giving it a try. For interested parties, he has a CD out which you can find more info on here.
Stay tuned for part 2 with tales of numerous technical difficulties, Wii Remote lightsabres, Hally MCing and more.