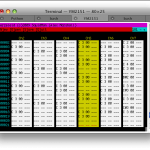 " The YM2151 is an FM sound synthesizer that is very popular in Japan. It was used in many arcade systems, including the CPS1, and was also in the MSX and X68000 home computers" . Also check out this teaser of a new tracker for it:
Via
Neil Baldwin updates us on his music driver:
I had a pitch-bend function in my old drivers but it was clumsy and most of the calculations were done in macros. For Nijuu I wanted portamento like it should be done. You just turn it on on a track and specify the number of frames over which the pitch sweep should occur and then just continue entering notes into the sequence like normal. All your notes will be smoothly pitch-swept from one to the other, forever, until you turn Portamento off again. It also only works in Legato mode, kind of like old mono synths where if you play without overlapping the notes, the portamento has no effect.
"The Mysterious H" has uploaded two new releases on his site, The Spacegod 7, and The Battle Makes My Blood Boil", for fans of power prog-punk chip insanity.