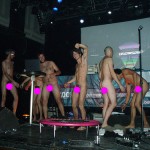 And the drought ends.. WITH HOT MENEO TRACKS.
From 8bit …..to…… supatit!

Our track BASIC has evolved into more than a gameboy track, grapping moments that picture influences from lo-fi electro to raggamuffin' vocals and into acid techno.

With hand picked collaborations, we start with the massive bass London posse TOMB CREW, who we met at a Plat du Jour party here in Barcelona! They drop some latin reggaeton percusions and dancehall rhymes along an amazing rusty acapella from Voltaire's Clek Clek Boom.

Also, we're proud to feature a remix from Deadbots, a Berlin-via-Dublin bastard duo with blazing distorted melodies that make your heart pound like fat bastard: thx Paul & Nina. Enjoy now!
1 – Basic Love – Meneo's 8bit Original
2 – Basic – Meneo's automix
3 – I Know Bass – Tombcrew's remix feat. Voltaire Clek Clek Boom
4 – I Know Basic – Deadbots