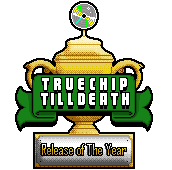 "Release" is sort of an abused term in the chip community. TCTD regards the term "release" as:
Contains a number of quality tracks from an artist or groups of artists
Album artwork and hosting so you can easily direct friends who might want to learn more about the artist or label
Quality tracks
The nominees this year include a variety of formats, from ROM carts to vinyl to digital to CD. Their common thread is that they are all collections of great tracks by some of the best artists in the game.
Here are your 2009 Best Release nominees:
Bud Melvin –  Popular Music / Self Released
Bud is one of the most interesting voices in the chip music scene, his songs eschew chip music cliches and use a wide spanning soundscape to paint expressive backgrounds for his madcap narratives.
Bondage Fairies – Cheap Italian Wine / LoboTom
Sweden's favorite 8bit, punk rock, robot duo's sophomore release did not disappoint, with more Pixes flavored Devo-inspired scatologia  that rocks from the first synth warble to the last downbeat.
Alex Mauer – Vegavox2 / Pause
The master of the NES ROM album world (and thanks to NO CARRIER, it is actually becoming a world), this ROM showcases Alex's acknowledged mastery of the 2a03 and gives you a glimpse of his lesser known pixel chops.
V/A – Blip Festival 2008: 32 Live Recordings / 8bitpeoples and 2playerproductions
Perhaps the definitive live chip music document, this release showed that the energy of Blip Festival and its performers can indeed be captured and will remain a keepsake of all involved for years to come.
c-jeff's concept EP shows off his considerable musical chops (with some help from his friends) and is one of the more touching and cerebral releases of 2009.