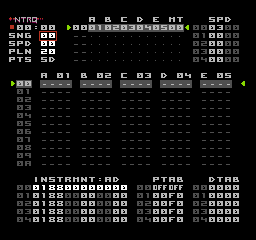 V1.3 – April 29th 2010
———————-

Added pitch fix for PAL version. All future releases will include a PAL version of the ROM (ntrq_PAL.nes) and an NTSC version (ntrq_NTSC.nes). Rename the version you want to use as "ntrq.nes" or you might find you can't load your .sav files (emulators look for a .sav file that matches the ROM file name, generally).

V1.2 – April 29th 2010
———————–
– Fixed bug where pausing and song and restarting it would cause the song to play incorrectly if you were using a chain of speed settings in the Speed Table
– Made some changes to the priority system used for screen updating to hopefully kill that long-standing screen glitch bug.
– Fixed bug where setting $40 as an aux parameter in an instrument would produce an extreme vibrato effect.
– Added highlighting to Pattern grid. Every 4 steps the grid changes from light to dark grey as a visual aid. I'll perhaps put in some way of configuring this display. Want to make sure it's not causing any screen glitches first though.