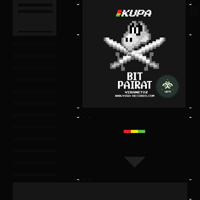 Get complete release here:
Following the unofficial and "Pirate" release of the "Pairat EP" which contained 4 tracks of this album, distributed freely around the web as a distribution experiment previous to the launch of this label, Vira proudly presents the second installment of its releases.
"Bit Pairat" is the name of Kupa´s first official release, which contains 13 tracks of a unique blend of 8bit, dubstep, dub, dancehall, garage, techno and ambient that can be described as "8bit bass music".
This album is the soundtrack of a fictitious videogame in which each track is refered to a level of an 8bit videogame, which tells a story placed on a caribbean version of a cyberspace, about a lost pirate who finds a meaning of life in a woman who is captured, and the same way as many video games, the "heroe" keeps fighting demons and ghosts, again and again to save her, without finally getting it. When he finally thinks he finished the quest, a new one appears, a metaphore of life as a videogame.
Covers of classic 8bit tracks like Bloody Tears (Castlevania) and Monkey Island's Theme make reference to the golden era of 8bit games, while the cover of Santo & Johnny's "Sleepwalk" works as a good ending track of a videogame.
From the first track "Perdido", a dubby mellow and very bleppy track, to the last track "Continue", a bass ambient track, the album travels through 8bit wobbles, skanks and melodies, halfstep, broken beats and 4/4 rhythms with deep basses and a colaboration with mexican producer Mekha.
Kupa is the newer moniker of Cristian Cárdenas aka Plug, veteran of minimal techno and head of the extinct netlabel "Filtro" who now leads Vira.
Be sure to turn up the bass while listening this album from start to finish.
Tracklist:
01. Perdido
02. Salvame
03. Chango Island
04. Kahuama
05. Bloody Tears
06. Hongo Rojo feat. Mekha
07. Fantasmas
08. Castillo
09. Tanooki
10. Lakitu
11. Peach Bitch
This post was submitted by Cristian Cardenas.