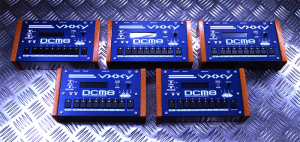 64 Patterns in 8 banks of 8.
Selectable 8, 16 or 32 steps per pattern with half, normal and double speed timing scales.
Adjustable instrument volume, decay and pitch on per step basis.
Dual channel architecture with wide range of retro and unique preset sounds generated by a scripted synthesis engine.
255 digitally synthesized chip sounds, consisting of 223 presets and 32 user generated patches.
8 Levels of live undo on each pattern.
8 Songs with 128 pattern selections.
Clear, Copy and Paste 8, 16 or 32 steps between patterns.
EEPROM based storage of all patterns and user data, with SYSEX backup.
MIDI input and output.
The oscillator has all traditional waveforms and a selection of 4bit wave tables, samples, generative algorithms and frequency modulation available. Noise source includes multiple different types of PRNG (pseudo random number generator) and wave formulations, and control is available over frequency, volume, and sweeping of those parameters. An LFO is also included which is routable to all parts of the synthesis engine, with selectable waveform, frequency, depth and re-triggering options.