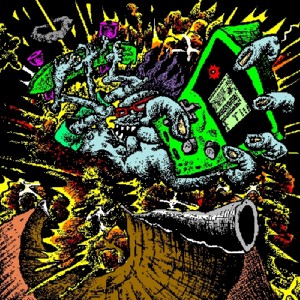 Tracklist:
01. trash80 – Haunted Candies
02. Mike Bleeds – Serotonin Assault
03. The Silph Scope – Cobra Command
04. EvilWezil – Dynamo
05. virt – Lorem Chipsum
06. Wizwars – Thrash City
07. 8 Bit Weapon – Miami Dub Bounce
08. Elekid! – CPU-TEK #1
09. Mr. Spastic – Plebeian
10. Kool Skull – MEATMARKET II
11. ComputeHer – New York
12. Space Town Savior – Unseen, Undone
13. WMX – Keep It Dark
14. jiffypop23 – Import Antigravity
15. Wet Mango – The Tide Is High (Blondie Cover)
16. Droidsong – Drone Resolved (Nocturne)
I had the idea to put this compilation together showcasing all of the talent located in Los Angeles, the Inland Empire, San Diego and all the surrounding areas of Southern California that make up the slowly growing SoCal Chip Scene. Some are well known heavy hitters who have played Blip Fest and various international chip shows, and some have never officially released tracks outside of this compilation. We try to put together as many shows as possible and as regularly as possible to showcase this talent, but this compilation is the best way to show outsiders that WE ARE HERE. 2011 is the year of Southern California Chipmusic.