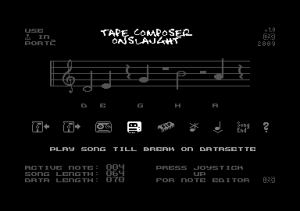 This is a very cool tool for the Commodore 64! Enthusi of demogroup Onslaught brings this gem to your C64, in 2009, which some might think is a bit late, but I think is appropriate.
You can make some simple tunes and record (master, as the soft says :D) the output straight to tape on the datassette! I think there's a bunch of tricks you could pull with this one using fast notes.
Who's up for the first tape release entirely made with this? My hat is off for whoever wants to do that… You wanted limitations? Have a suck on this one.