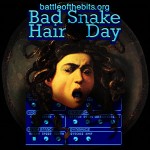 µB created a fancy square wave VSTi called Medusa. BotB then hosted a competition where BotBrs were only allowed to use that as a sound source in their favorite software. The use of effects were encouraged but sampling was discouraged.
There are 10 entries.
Check them out and vote to help decide the winner.
Two days ago Medusa got reskinned by iLKke. Read more here
This post was submitted by b-knox.