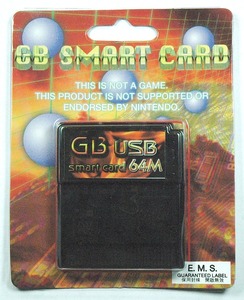 EMS is arguably the largest supplier of Classic Game Boy Flashcarts. Their little blue 32mb carts where sold publicly (and later less publicly) for a number of years before they surprised everyone with the stealth announcement of a new 64mb USB based cartridge. I ordered one curious to see how it stacked up their earlier cart and the current stock of existing carts.
The item comes in a sparse package touting its USB connectivity, LSDJ compatibility (checks in the mail Johan!), and links to download the software from their website.
The offical features are:
Support for GB/CGB/GBA
Supports GB/CGB ROMs (including LSDJ)
Multiple game ROMs on the same cartridge are allowed
Connects to PC via mini-B type USB cable
Software supported on Windows XP (32bit), Vista (32bit), and 7 beta (32bit)
Easily replaceable battery (for SRAM). No soldering is required
Dual Banks
The first machine (Dell XPS 400) I tested installing the software on, the drivers simply didn't work. Manual installation didn't help, but later I tried it out on another windows machine (eeepc 1000h) and it worked fine. It also tested as working well on a Mac running Parallels, so those with access to an virtualized windows xp setup should be able to use the product.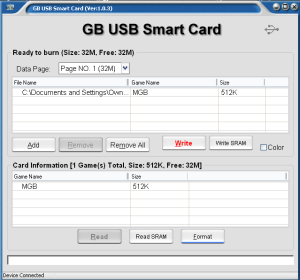 Once the drivers are installed, it is basically plug and play. The included software is pretty utilitarian, you can see whats on the cart already, and browse and drag or drop files into the top window to select which roms are added to the cart. If you add one or more roms to the box, the software will automatically create a multi-cart menu that will allow you to select your program once the game boots.
One of the oddest features on the cart is its paging feature. It does not actually support 64mb of games at once, rather you have two 32mb banks that you select by POWERCYCLING the gameboy very quickly. The catch is that these two banks share the on-board 128kb sram, so if any of the other programs require use of sram, your songs will overwrite each other when you load them.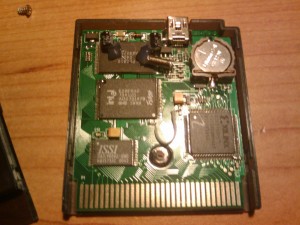 In concept the bank feature is cool. I quickly setup mGB in the main bank, and a bunch of gb sound programs that did not require sram in bank two.  By default a cold started gameboy will also default to bank 1. and then a quick power toggle gets you in bank two.  But when I went to try another music program, I had to powercycle twice to get back to the root menu, or wait for whatever (educated guess) capacitor discharges on the cart to let it get back to bank one. It would be nice if there was an hardware toggle on the cart so I can do a less scary method of trying the different modes on the cart. By the way, you HAVE to use bank two. It is not smart enough to realize that if its blank to ignore the toggle feature, and will load a blank screen if you power cycle.
Other quick notes:
The cart itself is pretty cheap plastic.  They include the measurements of the USB port in the manual for what I assume is a tip for people who want to use a commercial cart to house the unit.
You cannot load the cart on USB if it is plugged into a Game Boy. Seems odd with that usb jack right on top.
User replaceable battery is an excellent idea.
When booting LSDJ I saw a quick flash of code on the screen. Maybe its the carts firmware? Sometimes power cycling would corrupt my LSDJ worksram, but this only seemed to happen when:
Loading the Pixelh8 software, which DOES NOT work on the cart. Oh well
Haven't had a chance to try it out on the long term, so will post updates if it starts to act up, but its a good enough option for users who want a cart quickly that simply works. The LSDJ and bank modes issues are troubling, so my gut tells me that if you own a product like the BleepBloop cart already stick with that, at least until more user feedback comes in.
Purchase: kitsch-bent — USB 64M Smart Card.