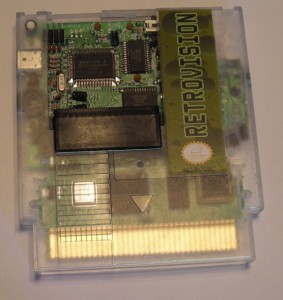 Another secret project finally finished!  Not going to set up a web page for this one yet because I only have 4 completed and ready to ship.  If you want one, start a transaction!  They are going to start at $130 including shipping.

Note the amazing RET-RV-GBL label by Kevin  

This is basically the Super GameBoy, without the Super part.  The guts of an original GB are transplanted into a NES cart.  My incredibly amazing custom board then translates the GB graphics into NES format, and the NES controller to GB format.  The original link port is accessible, so you can connect another GB or RetroVision or plug in the printer.

The colors and border can be changed using the 2nd controller.  Audio either comes from the headphone jack or through the NES if you have done the resistor mod inside your console.

Inside the cart is PACKED.  The GB cart does stick up above the surface, so a front loader will need the metal bar removed like with the Game Action Replay.
There's lots of cool stuff like triple buffering to prevent screen tearing, and dual porting SRAM so the GB can write while the NES reads, but most people don't care about tech details  

To get some complaints out of the way:

– It's the same as Super GameBoy: pretty much!  No I don't expect this to be a big seller, but hopefully some of the new tech I used will be in future unknown projects.

– It's expensive: yup!  Expensive parts, expensive development, lots of PITA assembly.  See above if you are cheap  

– It's not available: I only have a few of these built right now.  After vacation I can get more done but each one takes a long
So my first question is does this force the audio to mono through the nes port?Also the link port is in a bad place for us classic NES owners. One to keep an eye on though!
Also: Read this Review of pictures by Nitrok2k1