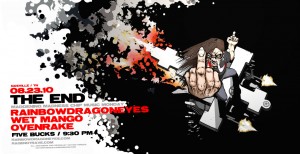 Time August 23 · 9:30pm – 11:30pm
Location The End, 2219 Elliston Pl, Nashville, TN
MONDAY NIGHT NEVER SAW THIS COMING NOT IN A MILLION YEARS.
Teaching Nashville the way of the party with extreme force, Rainbowdragoneyes is taking the stage with some deadly new explosion musicsongs to kick off the second leg of the TRANS-AMERICAN CHIPTOUR 2010 with a BANG and a BANGGGGGGGGGGG.
…
Completing the lineup for the evening is gameboy-weilding Portland cutiepie OVENRAKE and booty-clappin Los Angeles chipstress WET MANGO. Each bringing with them their own unique arsenal of beat jams to lay the smack down on your face and make you forget why you were ever born!!!!!!!!
These three individuals are hitting the road en route to New York and beyond, representing their hometowns on one of the most ambitious nation-wide tours the 8bit world has ever seen!
SPEND YOUR MONDAY NIGHT THE WAY YOUR LORD INTENDED, WITH EXCESSIVE DRINKING AT A PARTY WHILE ELABORATELY-PROGRAMMED GAMEBOYS ARE PLAYING MUSIC AT YOU.
———————
This show will be streamed WORLDWIDE and LIVE at RageNotRave.com!!!! Tune in or BRING DAT ASS AND SHAKE IT FOR YOUR FAMILY BACK AT HOME!!!!!!!
———————
You know the drill. 9:30 PM, $5. Bring some of that extra sweet cash for a new RDE tshirt.
www.Rainbowdragoneyes.com
www.RageNotRave.com
WET MANGO: www.gameboybeats.com
OVENRAKE: www.superbutton.net/chumba.php
This post was submitted by egr.