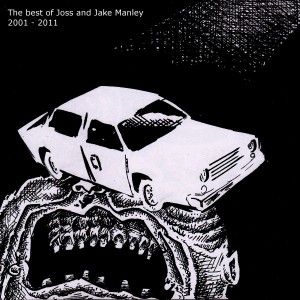 DMP009
"Jellica & Joss Manley – The best of Joss and Jake Manley 2001 – 2011"
DATAMOSHPIT RECORDS 2011
01 – 1Baffta
Mashup using Kanye West and some C64 samples. Assembled with little thought.
02 – Dubstep Challenge
C64 John Player/8581. Trying to fit in with some sort of scene.
03 – Misty Mountains Song
A My Little Pony influenced number. Musical.
04 – 6ruu6ru6tru6ryu6tryuu6tu6ru
A weird C64 drum machine program and some poorly chosen squarewaves. One for progrock fans.
05 – Ssti
C64 John Player/8581. A kind of dark serious tune.
06 – Nd Muii Try Nam
Another mashup. This time it's Derek B (UK rappers have the best names) with Reyn Ouwehand's C64 Flimbo's Quest music and a bit of LCD Soundsystem. Awkward.
07 – Funkgland
C64 John Player/8581. Some sort of attempt to make a bit of SID funk.
08 – Mastertronic's Super Trolley C64-128 as seen on BBC TV's Jim'll fix it
We found a tape with the game on and decided to sample it. Interesting.
09 – Sound2
Some improvised electronica. Delicate.
"Thanks to:
Everyone who has released our music.
Everyone who has downloaded, listened to and enjoyed our music over the past 10 years.
Everyone who has invited us to play shows.
Everyone who has danced at our shows. Or at least tried not to looked bored."
-Jellica and Joss
The first time i was introduced to chiptune music, I was sent a link to download a compilation called "8-bit to the floor" on Kittenrock records. I had never heard of chiptune before. on that compolation, was one of the greatest songs I had ever heard. it was called "Funkgland" by Jellica and Josstintimberlake. that track was not only funky, but it had a great chord progression that held thick throughtout the entire song. it was abstract enough to stay interesting, yet so simple that it did not need anything else. the fact that it was low-fi was not even a relevant topic in my view. it was well done regardless of the process because the result was so flawless. I also ended up downloading "COW" by JT (Joss Manley, Josstintimberlake) and was greatly influenced by Joss and his brother jake in the way I wrote songs. Even though I am naturally keen on writing very fast and violent songs, They have showed me that it always helps to step back, relax, chillout, and put some creepy samples in it. I am very blessed to be able to design art for and publish this album. I hope you like it, and if you ever see a copy of this in a physical format, i reccomend you buy two copies, keep one, and give one to someone who is looking for inspiration. Thanks Jake and Joss!!!
– Juan Larrazabal, "KOOL SKULL" Jan 25th 2011 10:34PM Los Angeles CA.
This post was submitted by KOOL SKULL.