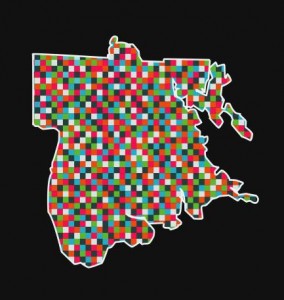 Now if it wasn't for the Bronx/ This rap shit probably never would be goin' on/ So tell me where you from?/ Uptown Baby, Uptown Baby/ We gets down baby/ Up for the crown baby – Lord Taiq & Peter Gunz, "Deja Vú (Uptown Baby)"
On April 4th, 2009, I wrote the first song on this record; a post-it note featuring a crudely drawn arpeggiator became "Here Come the Pretzels!", a reference to watching The Simpsons with my family that inspired me to explore the autobiographical nature of home.
A tribute to project housing and salsa music became "Elevators". I synthesized the increasing acceleration of my cousin's Chevy Tahoe into the EP's title track. Most telling, however, is the album's central effort, a celebration of friendship named after one of many physical connections to my peers throughout Brooklyn: "Triborough Bridge". Indeed, while at first glance this seems to be yet another salute to the Bronx, a closer look reveals what's really being said underneath the raucous shouts of "BX ALL DAY": that it's time to fucking party with my friends. Let's GO!