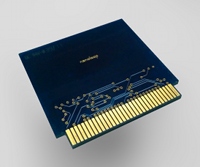 Nanoloop one is a sequencer / synthesizer cart for the original Game Boy models.
– Additional "gate" mode for envelope: Short notes with flat envelope.
– Fixed-frequency FM with amplitude modulated by pitch LFO.
– Free-running LFO: The LFO is not reset on each note.
– Tempo range from 30 to 1920 BPM.
– Used pattern file slots are marked, patterns can be deleted.
– Backup and update via USB.
– No fifth voice.
– Only eight banks.
via nanoloop one.