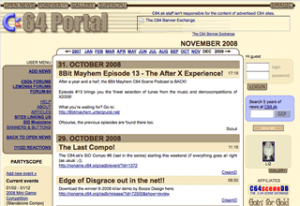 Every year's autumn for the last 8 years, super Commodore 64 news portal from Slovakia, C64.sk, runs the SID Compo, C64 scene's biggest online music competition.
It has now been announced, the LAST installment of this compo, starting now and ending by end November. Each year the amount and quality of releases has been rising a lot, so I bet this time, being the last one, it will be no exception, with everyone wanting to make the SID Compo leave us with quite a loud bang.
Get updated about it on the compo page at CSDb, and join if you want to.
You can also check out the previous installments which are full of delicious tunes (in between brackets, my favs :)) :
C64.sk SID Compo #1 (#7 and #4)
C64.sk SID Compo #2 (#5 and #8)
C64.sk SID Compo #3 (#4, #5 and #13, and I got a tune in #24 :))
C64.sk SID Compo #4 (#5 and #7)
C64.sk SID Compo #5 (#1, #3 and #16)
C64.sk SID Compo #6 (#2 and #7 )
C64.sk SID Compo #7 (#8 and #4)
Bonus! C64.sk Covers Compo #1 (#7 and #4)