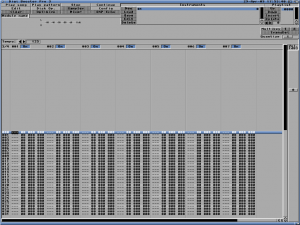 Some of you (few :P) may remember my post about this new up and coming tracker for the Amiga back in January. If not, check it out.
After being rejected for a beta tester position (damned jerks!), I rely on public announcements to keep you updated, so I'm sorry if you have read this somewhere already. To be honest, the company developing it, APC&TCP, have proved to be major asshats to the Amiga community throughout these years so I wouldn't be surprised they do something not nice with this software. It'll be my utmost pleasaure to pirate them :P
Anyway, I am also NOT fond of the generic Intuition/OS3 look of the software, something which was a pet peeve of mine in MusicLine, but that aside, the tracker seems to be packed with features as I mentioned in my previous article.
Clicking on 'More' you will find the full report…
"First of all we have to say that the program is being rewritten from scratch opening new opportunities which haven't been possible with the old sources of Version 2.xx or at least without an unacceptable amount of work. The program structure can be enhanced now and designed with more efficiency in mind.

playback routine

The implementation of the playback routine on the basis of Digibooster Professional version 2.xx in the new version 3 is nearly finished. Smaller effect commands like Sxx (Pitch up/down) or Lxx (setting of envelope position) and the DSP echo effects parameters (Vxx, Wxx, Xxx, Yxx, Zxx) must be implemented yet. Once we have done that the new playback routine will equal to 100% the one of version 2.xx on the new basis.
Moreover the new playback routine will be very portable having a positive effect on the portability to non AmigaOS compatible platforms.
Furthermore the new playback routine will be 100% independent of AHI.

Digibooster Professional 3 GUI

The basic GUI functions like
* trackerraster
* instrument list
* edit options (new, delete, change, …)
are already implemented.

In addition the programm will run with several tasks (tracker, player, …).
Visual customization using different skins will be possible too.

DigiRoller

This external program will enable you to render music files to complete AIFF or WAV files. It will be made available to the community for open testing shortly. Please note that this isn't the final version.

At this point we would like to advise you of the support forum of Digibooster Professional. Everyone interested in the development and integration of new ideas is welcome to take part at the discussions.