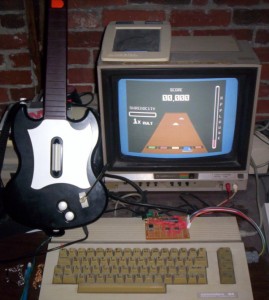 With all the hype around Guitar Hero and Rockband (following the successful trail of the "DDR-type" games), the oldschool machines feel kind of left out of the loop.
Fear ye not, my fellow oldschooler, for beautiful minds in the Amiga and C64 scene bring us software to enjoy ripping it on our old machines, with class.
What's  so cool about this? These programmers are using chipmusic we love or getting our favourites composer to make music, in original format, for these games. Some of them are opening up for submissions so you should pay attention, if you compose in any of these platforms.
Tracker Hero, for the classic Amiga range of computers and as of yet unreleased, shown here playing tracks from Lotus Turbo Challenge 2 and some demo productions.
[kml_flashembed movie="http://www.youtube.com/v/isXC8IyKYFA" width="425" height="344" allowfullscreen="true" fvars="fs=1" /]
Shredz64, for the C64, with a tune fromone of my faves, Randall: Ex-State of Mind. This one even interfaces with the original GH controller and is already available. You can even add your fave SIDs to the software!
[kml_flashembed movie="http://www.youtube.com/v/52gcC3Sn-Gw" width="425" height="344" allowfullscreen="true" fvars="fs=1" /]