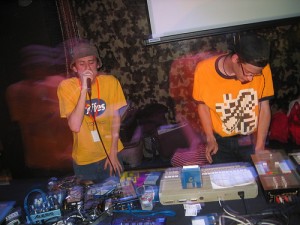 This is the second part of our interview with gwEm, you can find the first part here.
LB – In the maxYMiser FAQ you make the comment that the other trackers available for the machine lacked in some way, I was curious which limitations encouraged you to start on maxYMiser.
gwEm – Well, there were 3 different trackers all doing something different, I wondered why.. then I read a deeply inspiring interview (note: links to myatari.net zip of May2003 issue which contains the interview) with the legendary Tao, which went into details about his techniques. I decided to put all the effects into one tracker.
LB – Did you develop maxYMiser in secret for a while or were you getting input from other Atari experts?
gwEm – I make most of my projects secret, since I don't want to disappoint, maxYMiser was a big secret though. I got input just from Dma-Sc on the interface – he tried all the early versions, from the very first mock up. I asked him, since I am a big fan of his music style, he seemed interested in trying a new tracker out, too – he was one of the first to move to Triplex. After the first couple of releases I got advice from 505 instead, since Dma was busy. Except for those two guys, I didn't really listen to anyone else. But they are, in my opinion, the best two musicians on the Atari ST demoscene.
LB – How did the ST community react to maxYMiser?
gwEm -Well, I released some stuff – firstly the song 'maxYMise' as a compo tune. 'maxYMise' didn't do that well, which effected motivation. I realized then, its not all about fancy effects. Next thing was 'The Phatt Demo'
LB – Phatt was before the YM Rockers demos?
gwEm -Most of those YM Rockerz tracks I used Musicmon2. I took SID Sound Designer for tYMewarp, and then used maYMiser for the last one – warptYMe. If you listen to the YM Rockerz demos, you can hear the progression in everyone's sound from the first to the most recent one.
LB – So Phatt was before maxYMiser went public?
gwEm – Yes, because that was in the demoscene tradition. In the old skool, a musician/coder would always release a music disk showing off his fancy new routines. If they didn't guess it, they knew maxYMiser was coming at that point.
LB – Did people like Phatt when it was released?
gwEm – It was pretty popular on the demoscene. I regret to say it didn't really work on the 8bitscene, but gradually people have heard about it – I'm always happy when people say they like the Phatt Demo.
LB – I think it's awesome, Jellica pointed me towards it.
gwEm – So maxYMiser I released at the next Atari demo party, it did shit in the compo, and it was a bit of a disappointment that year.
LB – Did people like the software?
gwEm – It was hard to demonstrate in the compo, but people went home and used it after the party.
LB – How was the response?
gwEm – MaxYMiser doesn't have a sexy looking interface you see. I can't recall exactly, but after a few months, a lot of people seemed to use it.
LB – well, I think maxYMiser is all about whats under the hood right?
gwEm – Yes, there's a lot under the hood of maxYMiser, it takes a while to learn it.
LB – Did you get much useful feedback in the first few months?
gwEm – Mmm, not exactly and Musicmon2.5 was released at about the same time. I was a big Musicmon fan of course, and I wouldn't have bothered with maxYMiser if that beast had come out earlier.
LB – Would you care to hazard a guess at how the ST users are split between the major trackers?
gwEm – Most are with maxYMiser. Stu, Cerror and Schmx take Musicmon2.5 for example, its the 2nd most popular and a few enjoy Triplex – which is a clean and very good tracker too. So from 3 not-so-good trackers, the Atari scene has 3 state-of-the-art ones. Dark Angel (Musicmon), Damo (Triplex) and myself together changed the Atari chipmusic scene.
LB – Do yourself, Dark Angel and Damo share code/ideas and things or do you work mainly independently?
gwEm – We work independently, but sometimes we help each other out. They are both great guys – Damo is a well known Dubstep producer.
LB – Judging by the version changes maxYMiser has been in fairly active development since its inception, were any of the major changes requests from users or mostly your own ideas?
gwEm – The big features are my own ideas, I listen to user feedback though and that has lead to quite a few smaller improvements.
LB – Have you taken maxYMiser as far as you feel it can be taken aside from minor updates or do you still have major new things you want to add?
gwEm – There'll be minor updates, and major if I really want something myself. It's well known I have a love-hate relationship with maxYMiser, I regret writing it.
LB – Really? how so?
gwEm – It took too long to write, and I wasn't working on my own music. Since I am a musician first, and a coder second it was depressing to work on it, frankly.
LB – I think a lot of people enjoy maxYMiser a great deal. I am most grateful for it.
gwEm – Thanks for saying so :)
LB – One thing which keeps coming up is the idea of doing things live – DJing, STj, gwEm and Counter Reset.
gwEm – Yeah, doing the live shows is the most important thing!
LB – Is it something you love doing or something a little more philosophical? As in how you think music "should" be done?
gwEm – DJing, STjing, the live show, MCing, playing guitar in my grime band, I love it – its all great fun! Music is all about the passion, and for me its best expressed live. Would you rather listen to Sabbath, or go and see the show… its clear :)
LB – What live frontiers would you like to try and conquer next?
gwEm – Live frontiers – I'd like to start an industrial metal band on the Rammstein lines.
LB – Any places you would like to play?
gwEm – Of course, there are many of those. I'd like to do Brixton Academy, its always a pleasure to play anywhere in Germany. Bodoukan Arena in Tokyo would be great.
LB – If you could swing a Budou?
gwEm – I would take Counter Reset and we'd make the usual gwEm and Counter Reset live show of course.
LB – I would guess most of you gigging has been Europe and US centric thus far?
gwEm – Well, I've done shows in the US, Europe, Japan, India, and Scandanavia.
LB – you played India? how did India come about?
gwEm – The India show was a cool story. I was there on business I met up with this band called 'Frendz', its spelt just like that. They were playing in the hotel bar where I was staying. They played Babe Ruth 'The Mexican' which really caught my attention. One guy had a sax and an old Yamaha keyboard and the other a wild Indian electric guitar. When they dropped 'The Mexican' I looked up from my beer and the guys were smiling at me as if to say – "we know you like this one." I was wearing my leather jacket, and everyone else was in boring business clothes so we got talking, and then I fetched my DS and jammed some tracks. That Indian guitar was pretty bad, but it was a long show we played together.
LB – What were you running on the DS?
gwEm – Moonshell.
LB – Playing some pre-recorded stuff you had?
gwEm – Well, that's how I do my live show. I went through various waves, but now I have my whole back catalogue on it minus guitar and voice. I can pick any song I wrote from my first micromusic songs to Live from Hell.
LB – How did the suits react?
gwEm – They just kept drinking… 'Frendz' were real music fans and playing wild obscure stuff anyway. They did Nessun Dorma for Pavarotti(!) Next time I go to Bangalore we already planned another show together in a cooler place.
LB – For "Live from Hell", how true a depiction of events was the story about you Randomh and Nullsleep plying each other with drink?
gwEm – Absolutely true… well, most of it… ;)
LB – Final questions, in all your gigging/touring/releasing have you had any brushes with major labels?
gwEm – I've had my fair share of brushes with bigger labels, it's been fun. Shitkatpult, Muller, Astralwerks, a few jungle and hardcore labels and Vorc Records of course. I like to do stuff with them, needless to say :) Not to forget Micromusic or 8bitpeoples too.
LB – How did you get involved with Vorc for Squarewave?
gwEm – Well, I played at the release party of Holy Night, Hally is a good friend of mine. My contact with the Japanese scene has always been positive. Hally is one of the most knowledgeable people in the whole world, demo and 8bit wise for chiptune. I don't work with people I don't like, which is why I dislike the idea of 'networking.'
LB – Is there was anything you wanted to say in closing?
gwEm – What to say… the scene grows stronger everyday… its changing and evolving, and that must be a good thing. But together we keep fighting for the same thing than at the beginning! I hope I will still make 8bit live shows in another 20 years! Lies… I hope I will make them in another 50 years ;) or 70… Check out Les Paul – rocking until the end :)
LB – Something to which many can also attest to, Thank you very much for you time Sir, this was an absolutely blast. I really enjoyed it.
gwEm – It was a real pleasure for me also!