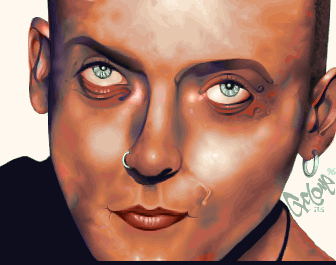 This is  weekly demo special edition! Since I am behind two weeks, I decided to post this related news item.
Once upon a time I used to go all the time to a site called GFX ZONE which was a repository of demoscene pixel artists, both old and new. Those fanatic of digital graphics and the demoscene probably remember it (you can still watch it, in its zombi state, clicking here)
Long defunct, I now found this site, recently re-launched, with a huge archive of pixel art to dive on. Run by the awesome Bitfellas crew, the site is pretty amazing, and a -necessary- stop for every pixel art aficionado.
Ah, the good old days when we actually DID antialiasing, and by hand.
Most recommended visit: Artcity
Illustrating this post: one of my favourite pieces by one of my favourite artists, "Too much clubbing"  by Cyclone, from Germany. Check out his gallery.