I hope you enjoyed the demo wrap up because here is part two. I almost forgot about these, to be honest, so I am sorry!
What we have here is a bunch of files in the categories of Music, Graphics and Games.
All the oldschool platforms are bundled together on one music category, called "executable oldschool music". Don't ask me about the 'executable' part, some of these did not come in any sort of executable format. Pixel graphics are not a very popular thing nowadays on the demoscene, so this year we only got one category to cater for that: C64 graphics. Fortunately for the oldschoolers among us, they made an unofficial compo for ASCII and ANSI graphics so we have that too. Then we have 96KB game, which was multiplatform and had a very cool game for the C64.
So, let's hit it on with all the data!
96KB Game
Fortress of Narzod is an old game available for the Vectrex console. The guys at TRIAD had taken this and converted it to the C64 using a very smooth and convincing vector graphics engine, not much of a sight on the poor old 3D-less C64. It also has all music done by Linus and that's always a plus point for me. The game itself, which I never played before, is very cool and challenging.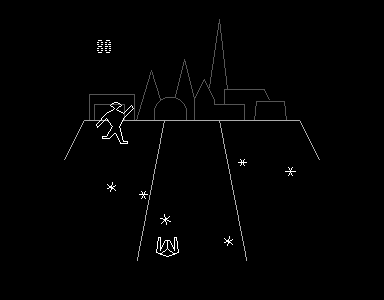 Oldschool Executable Music
The oldschool category had a bunch of different platforms thrown in which I always appreciate. NES, Amiga, C64 and Spectrum were all catered for. Even a Genesis track!
The quality all round was pretty okayish, nothing that blew my mind. The NES tune, Rastafari vs. The Biker by pinza, was quite fresh and I enjoyed it, despite my dislike for the NES sound in general. There also were a bunch of REAL Amiga chiptunes (read: small 4 channel MOD tunes with small samples sounding like chip hardware) which I did not like, and an AHX track which was cool, Over Control by Aceman.
A bunch of okay C64 and Spectrum AY tunes later, of which Factor6's Piggy Poo was probably my fave (and the winner of the competition), I could pick up a weird favourite tune: Slaepwerigne by LFT a.k.a. Linus Akesson attracted me by its tranquility and atmosphere, an epic-feeling track that is telling a tale. Far off the usual happy/dancey/funky whatever track that usually gets released, he played it how he wanted it, executed it properly, exported it as a SID file from his self-made playroutine, and only scored a seventh position in the compo. Damn shame. Give it a listen.
C64 Graphics
I was also expecting some more action on this category, but it seems as Breakpoint doesn't allow remote entries, not all C64 sceners could go, probably saving themselves and their money for a more C64-focused party like the upcoming LCP.  Nevertheless, some cool pics were released.
It seems like I never agree with most demosceners' typical taste. the winner of this compo, Earlier That Day by Ragnarok, is the typical 'me too' demo pic and I thought it was pretty damn boring. Yes, it's well executed, good technique and all, but the picture doesn't do anything for me. Sorry.
Second place is a bit more interesting and probably my "all round" pick. Oldschool Story by Carrion uses the IFLI mode pretty well, though not the best i've seen, and the theme is something you could find done very well in old pics by Cyclone or Made on the Amiga, but all round is a great pic.
Now there are two interesting pictures. Both interest me for their technique, and one for the theme also. X-Ray by Veto is the one that has these two interesting factors. The technique is weird as in not trying to use antialiasing or the classic color dithering found in most pixelart. It's still executed very well and with a technique that reminds me of brush-painted canvases. The theme, an x-rayed couple that's expecting a baby, is pretty unique as well and nothing I've seen before. This is my favourite among the competition.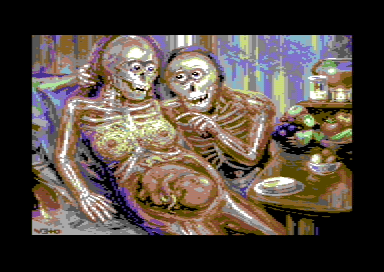 Now this second pic shines through by a very weird execution. The technique is odd and the result is as well, certainly nothing the demoscene is used to and as such it got almost last place. I think this picture uses the C64 more as a canvas and again I see the "i use the computer as a brush" sort of technique, reminiscent maybe of pointillism. Sashii by Nada is the pic I am talking about.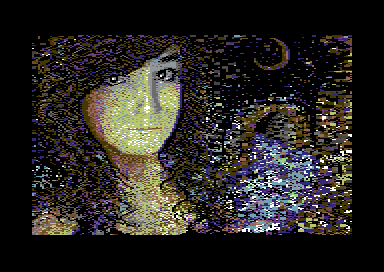 ASCII/ANSI
An unofficial competition, meaning that it was organized by a party-goer rather than the organizers, and as such also has no prize. This is something I am usually not into, specially ANSI, but there are some cool graphics to look at in the simpleness of text mode and even if I don't follow this closely, I always like to see this art from time to time.
Following you will find my favourite entries among different styles, which I will describe. Click the images for full view!
Oldschool ASCII: Jack the Tripper by DMG (#4)

I thought this was pretty cool because it  mixes old and new school ASCII!: NS by 16 Colors (#11, not very loved)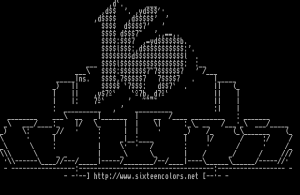 ANSI graphics: BP09 by Ansichris (I think it was disqualified) for not being released first in BP'09)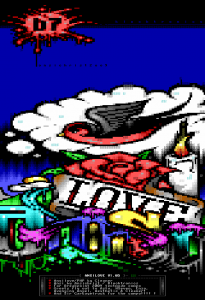 Well that's all from me for now, I hope you have enjoyed this wrap-up as much as I enjoyed writing it and watching the demoparty :)